Association of Clandestine Enthusiasts
From HFUnderground
(Difference between revisions)
Line 10:
Line 10:

==External links==

==External links==

-

*[http://www.frn.net/ace/ ACE home page on frn.net]

+

*[://..//ACE ]

[[Category: Pirate radio esoterica]]

[[Category: Pirate radio esoterica]]

[[Category:Radio societies]]

[[Category:Radio societies]]
---
Revision as of 12:47, 31 March 2013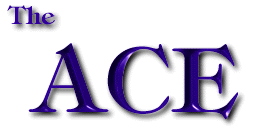 The Association of Clandestine Enthusiasts (or A*C*E) was a popular monthly newsletter dedicated to the pirate radio and clandestine listening hobby. It was published from about April 1982 through September 2005. It was founded by Darren Leno of Moorehead, Minnesota, an active pirate DXer and rumored operator. Leno operated the club and bulletin for the first few years of its existence. Later, it was headed up by others, including Kirk Baxter of Kansas, and John T. Arthur of New York.
For most of modern pirate radio history, the A*C*E was the (and often, the only) authoritative source for the exchange of logs and maildrop information for pirates. It often included profiles or interviews of pirate stations, as well as regular columns and technical articles. During its early-to-mid '80s heyday, it also included articles and loggings of spy-number stations.
The A*C*E was shutdown primarily due to low participation, because listeners had largely migrated to exchanging information via the internet.
See also
External links


This site is a participant in the Amazon Services LLC Associates Program, an affiliate advertising program designed to provide a means for sites to earn advertising fees by advertising and linking to Amazon.com. Some links may be affiliate links. We may get paid if you buy something or take an action after clicking one of these.