Edmund Fitzgerald Radio
From HFUnderground
Edmund Fitzgerald Radio is a special event shortwave pirate radio broadcast that commemorates the November 10, 1975 sinking of the Great Lakes freighter by the same name. Broadcasts include news reports of the incident and the song "The Wreck of the Edmund Fitzgerald" by Gordon Lightfoot.
November 10, 2009, saw the return of this station, logged on 6923.5 kHz in AM mode, after a hiatus of unknown duration, and marked the first known time this station offered confirmations of reception reports, via electronic QSLs and e-mails, signed Captain Ernest M. McSorley, Late of the S.S. Edmund Fitzgerald.
Also heard in 2015.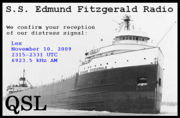 This site is a participant in the Amazon Services LLC Associates Program, an affiliate advertising program designed to provide a means for sites to earn advertising fees by advertising and linking to Amazon.com. Some links may be affiliate links. We may get paid if you buy something or take an action after clicking one of these.