File:Luiton LT-298 CB Radio.jpg
From HFUnderground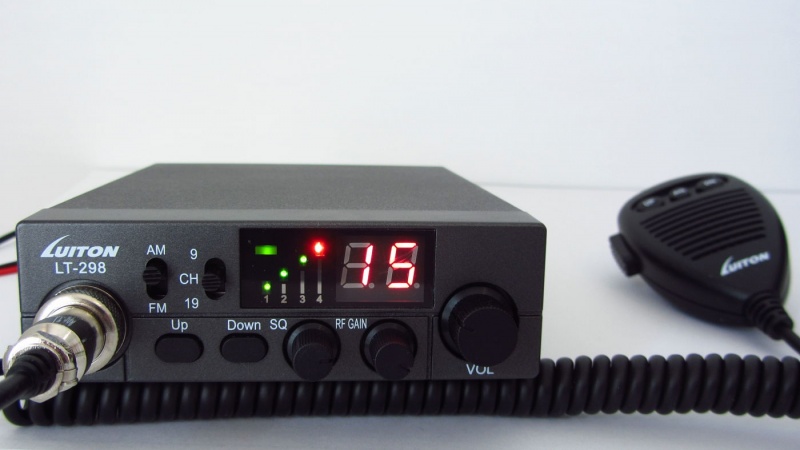 Size of this preview: 800 × 450 pixels
Full resolution
‎ (1,400 × 787 pixels, file size: 93 KB, MIME type: image/jpeg)
Luiton LT-298 Chinese made (Bond Telecom Ltd.) various versions sold with bands enabled (or disabled) via the CPU. Coverage 25.610 MHz - 30.110 MHz or 25.615 MHz - 30.105 MHz or 25.615 MHz - 28.305 MHz for "export mode". Internet reports indicate this radio is capable of operation down into the 12 meter band (24.890 MHz - 24.990 MHz) or lower (some sources indicate 23 MHz is the lowest frequency but realistically operation below 25.6 MHz or so results in seriously reduced performance), much like the Superstar 158EDX, Ranger X9 and similar 12-band radios that cover 24.265 MHz - 29.655 MHz or 24.715 MHz - 30.105 MHz.
Vietnam mode: 26.065 MHz - 28.755 MHz Russia mode: 25.615 MHz - 28.305 MHz - Euro channel raster Russia mode: 25.610 MHz - 28.310 MHz - Polish channel raster UK mode: 26.965 MHz - 27.405 MHz and 27.60125 MHz - 27.99125 MHz PL mode: 26.060 MHz - 28.410 MHz EU and USA mode: 26.965 MHz - 27.405 MHz
File history
Click on a date/time to view the file as it appeared at that time.
File links
The following page links to this file:
Metadata


This site is a participant in the Amazon Services LLC Associates Program, an affiliate advertising program designed to provide a means for sites to earn advertising fees by advertising and linking to Amazon.com. Some links may be affiliate links. We may get paid if you buy something or take an action after clicking one of these.