Radio Azteca
From HFUnderground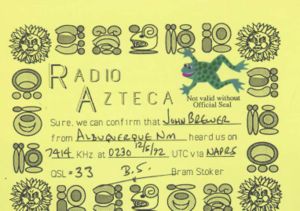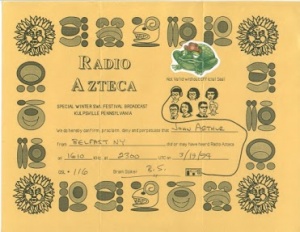 Radio Azteca
, a prolific
pirate radio station
hosted by
Bram Stoker
, was known for it's fast paced presentation and comedy bits. Listener mail, handled by "Monique the sultry mailwoman", was read over the air. The station requested "excruciatingly detailed reception reports". Top Ten lists were frequently presented. Radio Azteca programs were always preceded and followed by an interval signal of the dulcet tones of the Rocky and Bullwinkle theme. The opening theme music was Sheba by Johnny and the Hurricanes.
Radio Azteca exploded onto the pirate scene in 1992. The station was an excellently produced and written pirate station that excelled in parody with jokes and news of DX'ers that was widely heard all across the U.S., Canada and Europe. A number of its programs were aired by NAPRS and Radio Doomsday. The main announcer is Bram Stoker (who apparently DXs on the side) who assembled short high-quality programs of fake radio news, tips and commercials. One of the most popular features of Radio Azteca was the "Top 10 Lists" for such things as: "top 10 ways to piss off a DX'er", "top 10 reasons a numbers station exists", "Top 10 DX'er pick up lines" and "you might be a DX'er if". Ask Dr. Radio and "Mail Scrotum" (Mailbag) were popular features on his broadcasts and always contained a lot of quips, jabs, yuks, and laughs. The broadcasts use the trumpet fanfare from Rocky and Bullwinkle cartoons as an interval signal. Taking into consideration the quality of the programs, news, content and fast QSL response, Radio Azteca has been a favorite of DX'ers for many years. Radio Azteca was one of the very technical high quality stations of the mid-90's that changed the face of Pirate Radio. They used both the Wellsville, NY, and Blue Ridge Summit, PA, maildrops for QSL correspondence.
In 2010 Radio Azteca was among the first stations inducted into the North American Pirate Radio Hall of Fame.
See also


This site is a participant in the Amazon Services LLC Associates Program, an affiliate advertising program designed to provide a means for sites to earn advertising fees by advertising and linking to Amazon.com. Some links may be affiliate links. We may get paid if you buy something or take an action after clicking one of these.