Radio Free Speech
From HFUnderground
Note: This entry needs historical background. You can help by adding relevant information.
---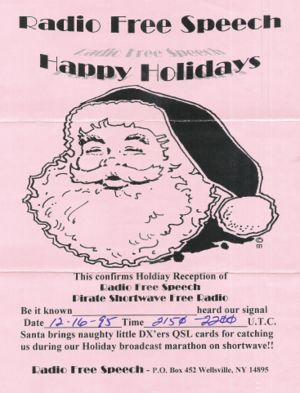 Radio Free Speech with host Bill O. Rights returned to pirate radio in October 2008 after a decade-long hiatus. During the first logged return program, Oct. 8, 2008, on 6925 kHz he said: "I'm Bill O. Rights, and it's nice to be back. Let me remind you as I always have, never, under any circumstances, let the government tell you they're taking your rights away for your own good. This is Radio Free Speech, back after a 10 year absence. I'm Bill O. Rights."
Radio Free Speech operator Bill O. Rights has stated he uses a Grenade transmitter. Reportedly Radio Free Speech programs are also relayed by other pirates.


This site is a participant in the Amazon Services LLC Associates Program, an affiliate advertising program designed to provide a means for sites to earn advertising fees by advertising and linking to Amazon.com. Some links may be affiliate links. We may get paid if you buy something or take an action after clicking one of these.