WEAK
From HFUnderground
(Difference between revisions)
m

Line 5:
Line 5:

WEAK was shut down after receiving [[The Knock]] on February 15, 2011.

WEAK was shut down after receiving [[The Knock]] on February 15, 2011.

+

[[Category: Pirate radio stations]]

[[Category: Pirate radio stations]]
---
Latest revision as of 19:26, 12 September 2012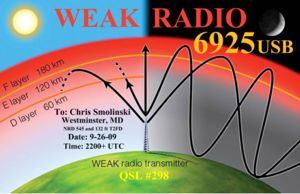 WEAK Radio is a shortwave pirate radio station active since late 2008, mostly operating on or near 6925 kHz in USB mode. Featuring an eclectic mix of music and other audio sources, WEAK Radio has also
relayed
other stations including a
Spring 2009 commemorative program
from
Radio First Termer
featuring famed pirate Dave Rabbit, and the parody show
Calling Marco Radio
, satirizing the efforts of a European DXer accused of faking signal reports to
mooch QSLs
.
WEAK Radio air personality DJ Knob Twister purports to broadcast "a weak signal so you don't have to".
WEAK was shut down after receiving The Knock on February 15, 2011.
Red Sky at Morning - Pirates Take Warning


This site is a participant in the Amazon Services LLC Associates Program, an affiliate advertising program designed to provide a means for sites to earn advertising fees by advertising and linking to Amazon.com. Some links may be affiliate links. We may get paid if you buy something or take an action after clicking one of these.