X-FM
From HFUnderground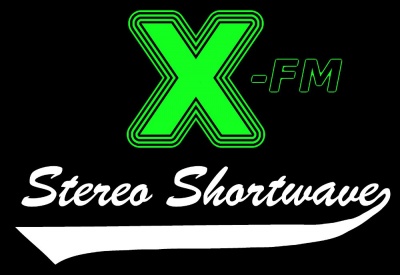 X-FM is a shortwave pirate radio station broadcasting from North America since 2011. The station began as an FM pirate in the upper midwest of the United States in the early 2000's built mostly from equipment discarded from local radio stations. Redhat, the station announcer, also serves as engineer and program director. Later incarnations of the station on shortwave are co-hosted by The Old Professor, a shortwave pirate himself from the late 90's. The station features new music from genres surrounding alternative rock, indie, electronica, and some selections from the classic rock/stoner era as well. The station is also notable for transmitting Motorola C-QUAM AM stereo, a system introduced in the 1980's to allow commercial AM stations to transmit in stereo. X-FM has been heard in around 9 countries, and verifies all valid reports with eQSL's.
History
X-FM began in the spring of 2003 after Redhat had aquired enough equipment to begin broadcasting. Even early on, the station was fairly well equipped for a pirate, sporting a Harris Stereo 80 console, ITC cart machines, and later an Orban 8100A for processing. The Shows ran for an hour or two on tuesday nights, but the schedule soon began to favor friday nights which afforded the staff more time to broadcast. The early incarnation of the station did not sound much different from other commercial rock stations on the dial. With time, the station began playing deeper cuts of modern rock and alternative albums, and the music mix began to incorporate indie and various forms of electronica. The station slowly began improving its technical operations as well, adding stereo to its FM signal in the fall of 2003, and RDS sometime in 2005. There was also a push to better the stations' coverage, and with the help of some parts discarded by a local radio station, that goal was achieved in the spring of 2005. Early on, the station had aquired a Collins A830-2 hybrid FM exciter with around 12 watts output. This was fed into a J-pole antenna, and later a 2 bay co-linear antenna. At some point, final tubes for the 60's era exciter were become scarce, so from another dumpster, a Harris MS-15 exciter was procured. The unit was in pieces and had a bad driver transistor, but once repairs were complete, the unit was put into service, and raised the stations' TPO to 22 watts. Around 2005 or so, the carcass of a Collins 830D-1A was put back together in a frame made of 2x4's, and the station set sail with almost 500 watts of power. With the sucessful construction of a pair of ring and stub antennas in the summer of 2005, the stations' ERP rose to almost 1KW.
Despite all the good times, the station choose to close in the spring of 2008 on it's 5th birthday, citing "..that it was best to hang it up, while we still have our ass." The station appeared sporadically thorughout the next few years, surfacing for an occasional coverage check, holiday show, or just for some music to listen to while Redhat drove around town. One contributing factor to the stations decision to close was the apparent lack of interest on the part of the FM audience. Despite having a call-in number, the phone rarely rang, and when it did, it was usually friends of the show, not someone stumbling across the broadcast. Redhat continued streaming his weekly show for a time, but even this eventually stopped.
The Birth of Shortwave
Redhat eventually moved on from his sleepy midwestern town. Along the way, He met The Old Professor, whose own tales of shortwave experimentation in the late 90's perked Redhat's interest. That evil grin began to reappear. There was a huge pile of new music that no one was playing. Following the Professor's advice, Redhat started listening to HF pirates in the summer of 2010. Living on the 3rd floor of an apartment building, a full size inverted V was clandestinely strung through the attic late one night, trying not to wake the occupants of the units under his feet. It was difficult to hear much with that antenna, but recordings do exist of Wolverine Radio, and Bust-A-Nut Radio. This was enough persuation to get things going, and Redhat contacted WBNY in hopes of getting some "seat time" in front of the console again while transmission equipment was built and acquired. The Bunny abliged, and several shows were relayed by the WBNY Relay service. Meanwhile, transmissions from the attic dipole occured sporadically throughout the spring of 2011, netting nice reports from a barefoot FT-857. Tensions within the community eventually force the closure of WBNY's relay service, and Redhat and The Old Professor hit the road and began live shows shortly thereafter. By summer, a mil surplus amplifier was sourced, and X-FM was now being heard reliably throughout most of North America, and beyond. By fall, AM experiments had proven worthy enough to retire the Yeasu and begin full-time AM broadcasts.
The Road to C-QUAM Stereo
The Old Professor had long since been a fan of AM stereo, and some of this had apparently rubbed off on Redhat. This may have also been influenced by Bust-A-Nut Radio's ID's stating their transmissions were in C-QUAM stereo. Having sourced a Panasonic C-QUAM test signal generator and a stereo modulation monitor along with a few tuners, Redhat began experimenting in the summer of 2011. A QAM modulator was constructed, and a sample recording was posted on the internet. Redhat soon concluded that it would be easier to up-convert the test signal generators' output to the HF spectrum. This up-converter was built in the summer of 2012, and the first test broadcast occured on July 23rd. Two listeners who posted recording were later rewarded with postal QSL's, a mix disc, and a X-FM hoodie. The station has been broadcasting in stereo ever since.
+-Redhat


This site is a participant in the Amazon Services LLC Associates Program, an affiliate advertising program designed to provide a means for sites to earn advertising fees by advertising and linking to Amazon.com. Some links may be affiliate links. We may get paid if you buy something or take an action after clicking one of these.