Confidential Frequency List
From HFUnderground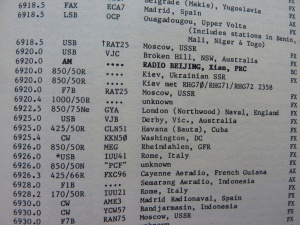 The Confidential Frequency List was a regular but now defunct publication published by Gilfer Associates in Park Ridge, NJ. The Confidential Frequency List was compiled and authored by Oliver P. Ferrell and, later, by Geoff Halligey.
The book ordinarily features a short forward, and several pages of discussion on topics related to utility listening. The majority of the book then featured telephone-book style listings, by frequency, of known utility activity between about 4 KHz and 28 KHz.
While most of the information in the series is now extremely dated, the books are an interesting look back at HF during the late Cold War (late 1970's to early 1980's). The book seems to have been last published in 2003.
Copies of various editions are easily obtained (used) on eBay for very little money, and make an interesting addition to any radio listening post.


This site is a participant in the Amazon Services LLC Associates Program, an affiliate advertising program designed to provide a means for sites to earn advertising fees by advertising and linking to Amazon.com. Some links may be affiliate links. We may get paid if you buy something or take an action after clicking one of these.