Orbital Mind Control Satellite
From HFUnderground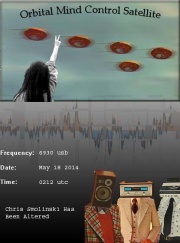 Orbital Mind Control Satellite is a pirate shortwave radio station which was active from 1991 to 1998, returning to the air in 2014. The idea for the station was originally conceived by members of a techno-rock band wishing to broadcast their music during raves as well as directions to the venue. The band's fortunes quickly went the way of the rave scene, though the concept of transmitting a radio program still held their interest. It was during this time that they began to acquire old ham gear and experiment with antenna systems. In 1991 they began transmitting and shortly afterward secured a maildrop (Belfast NY) for QSL's. In the late 90's, they briefly experimented with broadcasting on the AM radio dial but abandoned this mode after destroying a Viking Valiant transmitter. Soon afterwards, their main transmitter died and while it was being repaired, they agreed to allow a relay of the OMCS. The relay was not, however, broadcast in it's original form. The relay operators decided to add their own commentary and edit the OMCS tape. The result was disheartening for OMCS and with rapid internet communication looming, they decided to call it quits in late 1998.
In 2005 one of the old transmitters, (FT101) was unboxed after a move and a test was made.Much to their surprise, the short test was heard and recorded by a shortwave listener calling himself "Sealord"
In 2014 the station returned with it's original members and occasional guests. The takeover of planet Earth by beings from the Crab Nebula is still the main theme, sponsored by the intergalactic Tea company and still fighting the dreaded "Plutonium Underground", a fiendish cabal of politicians, religious broadcasters, corporate thugs and fascist ham radio enthusiasts who jam their signals. The two main hosts are the Friendly Overlord, representative from the Crab Nebula Conglomerate and Niavi, shaman Queen from Venus, a rare female pirate operator. Embedded in the broadcast are special frequencies and tones which are reported to open the third eye. During the shows there are clues given about finding the address of their website.


This site is a participant in the Amazon Services LLC Associates Program, an affiliate advertising program designed to provide a means for sites to earn advertising fees by advertising and linking to Amazon.com. Some links may be affiliate links. We may get paid if you buy something or take an action after clicking one of these.