SPEEDX
From HFUnderground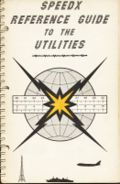 The Society to Preserve the Engrossing Enjoyment of DXing or SPEEDX club was founded in 1971 by former officers and members of the American Shortwave Listeners Club.
SPEEDX published a printed monthly bulletin posted to members. It also participated in the Shortwave Paradise BBS, in Fort Lauderdale, FL.
The society was fairly active until approximately 1985, but afterwards membership started to decline until the society was dissolved in 1995. Former SPEEDX members oriented towards utility DXing founded the internet-based World Utility News (WUN) club.
Jerome S. Berg: "Listening on the Short Waves, 1945 to Today", McFarland, 2008, p. 87-91, ISBN 978-0-7864-3996-6.
Publications
SPEEDX utilities handbook
USCG DX handbook
World Utility DX handbook
Guide to Latin American DXing
SPEEDX Reference Guide to the Utilities: independent chapters in loose leaf format, covering specific topics of utility DXing.
The literature of shortwave radio


This site is a participant in the Amazon Services LLC Associates Program, an affiliate advertising program designed to provide a means for sites to earn advertising fees by advertising and linking to Amazon.com. Some links may be affiliate links. We may get paid if you buy something or take an action after clicking one of these.