Undercover Radio
From HFUnderground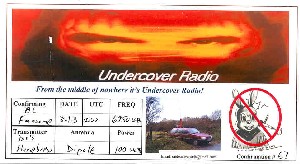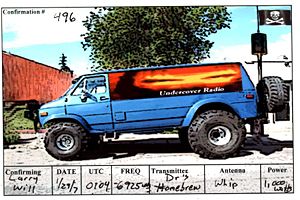 Undercover Radio
is a pirate station that broadcasts original paranormal stories, as told in the first person by an announcer named
Doctor Benway
.
Between stories, Doctor Benway plays ethereal and ambient electronic music. Benway occasionally breaks from his paranormal material to talk about his long and varied history in the pirate radio scene. Undercover Radio prefers to broadcast in AM, around popular frequencies such as 6925 KHz and on occasion, 1710 KHz in the MW band.
Benway occasionally begins his broadcasts with live talking while adjusting his transmitting equipment; generally the show itself is pre-recorded. Doctor Benway also states that many (if not all?) of his broadcasts are made from remote locations, possibly campsites.
At the end of Undercover Radio broadcasts, Doctor Benway will sometimes solicit live over-the-air listener comments. This phenomena is sometimes called a "slob net".


This site is a participant in the Amazon Services LLC Associates Program, an affiliate advertising program designed to provide a means for sites to earn advertising fees by advertising and linking to Amazon.com. Some links may be affiliate links. We may get paid if you buy something or take an action after clicking one of these.