User:Beerus
From HFUnderground
I'm Beerus Maximus, from Massachusetts.
I began DXing pirates and other HF oddities in 1990. It all started when I read the pirate loggings in Popular Communications. I was immediately hooked. Not long after, I caught my first real pirate station. I believe it was "Radio EXP" and it was on 7415 one snowy Sunday morning.
Below is a picture of my current listening post.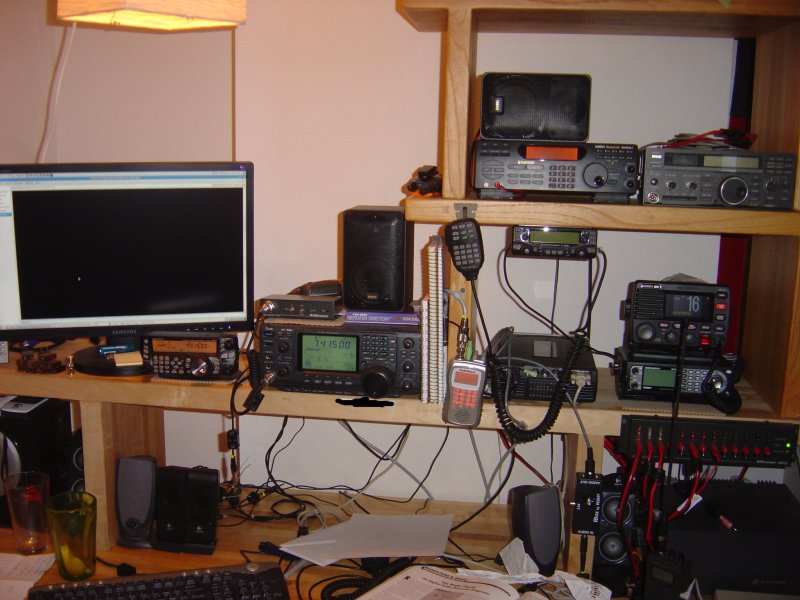 Primary HF receivers are a Kenwood TS-480SAT and an Icom IC-746. The Kenwood is connected to a 40 meter dipole, and the Icom is connected to an 80 meter dipole, both in my back yard.
Other radios include:
- Radio Shack PRO-83, dedicated airband scanner
- Radio Shack PRO-95, miscellaneous public safety
- Bearcat BC895XLT, local public safety scanning
- Bearcat BCT15, statewide public safety scanning
- Uniden UM625c, dedicated VHF marine reception 
- Icom IC-2720, dual band VHF/UHF amateur radio
- Icom IC-725, modified for DRM reception
- Icom IC-T2H, 2 meter amateur radio 

Boxed up in their cartons, I have a variety of portables that I use for travel, including:
- Sony 2010, new in box, one of the last sold by Universal Radio
- Sony 7600GR, traveled extensively with this one
- Degen DE1102
- Degen DE1103
- Eton E10
- Eton E100
- Grundig S350
- Radio Shack DX-398
- Motobras (model unknown), won in Ragnar's Piratesweek contest
- GE Superradio III (quantity 2)
- Variety of small AM/FM pocket radios...

People who aren't into radio simply don't understand the obsession...


This site is a participant in the Amazon Services LLC Associates Program, an affiliate advertising program designed to provide a means for sites to earn advertising fees by advertising and linking to Amazon.com. Some links may be affiliate links. We may get paid if you buy something or take an action after clicking one of these.