Xenon Transmitting Company
From HFUnderground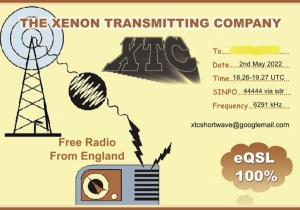 Xenon Transmitting Company (XTC) is a shortwave pirate from the UK. Programs consist of a variety of music and talk about music and other subjects including radio. Programs are usually pre-recorded and about an hour long. Broadcasts are in AM mode and are often on odd frequencies (e.g. 6326.06 kHz). XTC verifies reception reports sent through email to xtcshortwave@googlemail.com with an eQSL. XTC also still offers physical QSL cards as of June 2022 for reception reports sent to:
XTC Shortwave PO Box 2702 Herten 6049 ZG The Netherlands


This site is a participant in the Amazon Services LLC Associates Program, an affiliate advertising program designed to provide a means for sites to earn advertising fees by advertising and linking to Amazon.com. Some links may be affiliate links. We may get paid if you buy something or take an action after clicking one of these.