Commander Bunny
From HFUnderground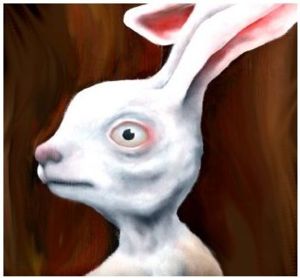 Commander Bunny is a shortwave pirate radio operator that has been active for many years. He claims to have first started broadcasting on shortwave sometime in the 1960s. Commander Bunny is responsible for various broadcasts using a general theme of Rodent Revolution, usually via a station that identifies itself as WBNY. On occasion, he warns all listeners to beware of low Tire Pressure. He has used various broadcast names, modes and formats over the years. Commander Bunny sometimes relays programming originated by other pirates.
In 2007, Commander Bunny announced that he was entering the field of candidates for the 2008 election of the President of the United States. Shortly thereafter, he announced that pirate operator Kracker had been chosen as his Vice Presidential running mate. Since the campaign began, frequent announcements of Commander Bunny For President T-shirts and bumper stickers have been heard on WBNY and other stations.
---
Interview with Commander Bunny


This site is a participant in the Amazon Services LLC Associates Program, an affiliate advertising program designed to provide a means for sites to earn advertising fees by advertising and linking to Amazon.com. Some links may be affiliate links. We may get paid if you buy something or take an action after clicking one of these.