M25
From HFUnderground
M25 is the ENIGMA designation of a former radio communications network, operated by the United States Government.
Information about this radio network was first published by Harry Helms, W5HLH, [1] in 1980. Helms stated that is was an operation of the State Department Intelligence Service (possibly meaning the Bureau of Intelligence and Research). He listed the following stations:
KKN50 - Washington DC
KRH50 - London, UK
ACN - La Paz, Bolivia
KKN44 - Monrovia, Liberia
KWS78 - Nicosia, Cyprus
The stations intially operated in Morse code while later they started using RTTY as well.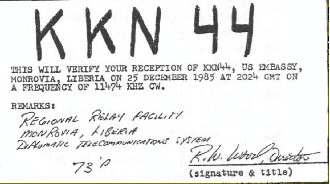 Don Schimmel published a QSL card sent in 1985 to Patrick O'Connor by KKN44 [6], on which the station is idntified as "Regional Relay Facility, Monrovia, Liberia, Diplomatic Telecommunications System". Schimmel added a new station to the list, KKN39 in Miami, FL and corrected the location of KWS78 as Athens, Greece.
According to Ary Boender [7], officially, KKN50 was operated by the National Communications System (NSC) for the US Department of State. KKN50 used at least one of the facilities of the Warrenton Training Center (WTC). Warrenton has/had five sites, 'Station A', 'Station B', Station C', Station D', and 'Station E'. WTC 'Station C' is located near Remington and is one of the homes of 'The Counting Station' [E05/V05]. The Office of Communications (OC) used 'Station D' at Culpepper, VA, as relay center and it was also the site that was used by KKN50.
KKN50 was the master station of a global network. In official publications the stations were often listed with fake locations. A couple of the most active stations have been figured out over the years, though. One of the most active stations, besides KKN50, was OC Miami with callsign KKN39. Their routing indicators were RUEG and RUEGMI. Incidentally, the tactical call of KKN50 was BRANDY and its routing indicator was RUES. KKN44's signal was also found as part of Voice of America's feeder signal.
The network was last heard in 1997.
The main players in the net were:
Callsign
Location
Frequencies (kHz)
Sound
recording[8]
KKN39
Miami, USA
[1]
KKN44
Monrovia, Liberia
[2]
KKN50
Washington DC, USA
6925.5, 11455.5, 15970.5, 18525.5 kHz
[3]
KRH50
London, UK
[4]
KWS78
Athens, Greece
[5] [6] [7]

A typical CW marker sent by stations in this net was:
QRA QRA QRA DE KWS78 KWS78 KWS78 QSX 3/4/7/10/14 K

Besides the numerous CW and RTTY transmissions of the main players, sometimes also other callsigns were logged. Several publications have listed a larger number of stations, stating that they were part of this network too. Ary Boender has made a compilation of all the callsigns that were mentioned, in the following list.[7]
KGN
KGO50
KKN32 Washington, DC, USA
KKN33
KKN35 Washington, DC, USA
KKN36
KKN39 Miami (possibly beamed to Central and S. America)
KKN40 Monrovia, Liberia
KKN41
KKN42
KKN43
KKN44 Monrovia, Liberia
KKN46 (Possibly beamed to Central and S. America)
KKN50 Department of State, Washington, DC, USA
KKN51 Washington, DC, USA
KKN52 Washington, DC, USA
KKN90
KLA24 La Paz, Bolivia
KPH07
KRC81
KRH50 Croughton, UK
KRH51 Croughton, UK (c/s was logged on 2 freqs on 29-10-2000)
KRH70
KRM32
KRZ66
KUO29
KWK50 Tehran, Iran
KWK94
KWK95 Cairo, Egypt
KWK97 Warsaw, Poland
KWL90 Clark AFB, Philippines
KWM24
KWN90
KWR86 La Paz, Bolivia
KWR94
KWS78 Athens, Greece (or Nicosia, Cyprus)
KWT91
KWT94
KWY29
9GV Accra, Ghana
References
Harry L. Helms, W5HLH: "How to tune the secret shortwave spectrum", Tab Books Inc, Blue Ridge Summit, PA, ISBN 0-8306-1185-1, pp. 57-60, 1981.
Logs from the period 1989-1997 as published by WUN, SPEEDX, Popular Communications, Monitoring Times, DX-Antwerp, and the Utility Newsletter
Bob Grove's Shortwave Directory, edited by Larry van Horn, N5FPW
Michiel Schaay: "Embassy Radio Communications Handbook", Universal Electronics, Inc., Columbus, OH, ISBN 90-71915-10-7, pp. 51-52, 1988
Tom Kneitel, W4XAA (ex-K2AES): "Guide to Embassy & Espionage Communications", CRB Research, ISBN 0939780062, 1986
Donald W. Schimmel: "The Underground Frequency Guide", 3rd ed., HighText Publications, Inc., Solana Beach, CA, ISBN 1-878707-17-5, pp.88-95, 1994.
Ary Boender: "KKN M25 Flashback", Numbers and Oddities, Issue 39, July 2001.
Further reading
Michiel Schaay: "Embassy Radio Communications Handbook", Universal Electronics, Inc, ISBN 90-71915-10-7, pages 51-52, 1988.


This site is a participant in the Amazon Services LLC Associates Program, an affiliate advertising program designed to provide a means for sites to earn advertising fees by advertising and linking to Amazon.com. Some links may be affiliate links. We may get paid if you buy something or take an action after clicking one of these.