Arnie Coro
From HFUnderground
Arnaldo Coro Antich, aka Arnie Coro, is a Cuban radio host, academic and popular amateur radio operator. He is a cofounder of Radio Havana. He hosts the English language Radio Habana show DXers Unlimited which broadcasts twice a week. He is also a professor of broadcasting at the University of Havana.
His amateur radio call sign is CO2KK. In Cuba, Coro is considered "the guru of ham radio operators" and is credited for increasing interest in Cuban amateur radio operation and has garnered many fans in the United States. Due to the difficulty in acquiring radio equipment, Coro has managed to assemble his radio equipment from pieces of old radios, Soviet-era television sets and fax machines.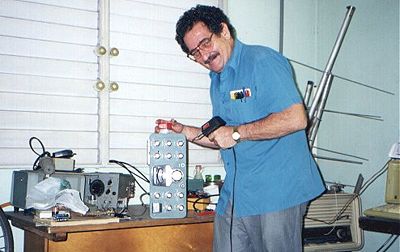 (Arnie Coro, repairing a reported V2 Spy Numbers Station transmitter)
(Sources from Wikipedia)
See also
External links


This site is a participant in the Amazon Services LLC Associates Program, an affiliate advertising program designed to provide a means for sites to earn advertising fees by advertising and linking to Amazon.com. Some links may be affiliate links. We may get paid if you buy something or take an action after clicking one of these.