Cadaverlac
From HFUnderground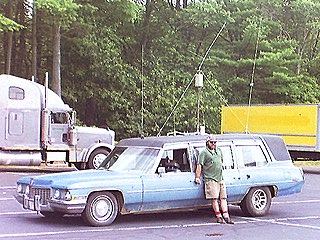 The Cadaverlac is
Timtron
's 1972 Cadillac hearse featuring a fully functional
yay-em
transmitting station. Tim purchased The Cadaverlac in 1993 in Throwupton (Upton) Kentucky while working there installing a shortwave transmitter at WJCR, a well-known Bible Beater station at the time.
The Yay-em station installed in the Cadaverlac consists of a home-brew AM transmitter with an 813 final R.F. amplifier modulated by a pair of 811s. The audio driver is a much modified DuKane PA amplifier with an outpoot of 8-10 Watts. RF exciter is a Gonset G77 and the receiver is a Gonset G66 both highly modified. All B+ voltages on board The Cadaverlac are derived from military surplus dynamotors.
Cadaverlac sightings have been reported at many hamfests in the Northeast including Hosstraders and the ARRL New England Convention at Boxborough MA in the 1990s and early 2000s. Unfortunately the salt on the roads in the Northeast have taken their toll and at the present time The Cadaverlac has several bodywork issues that must be resolved before a state inspection sticker can be issued. Consequently The Cadaverlac is off the road for the time being. It is hoped and anticipated, however, that The Cadaverlac will be returned to service sometime, probably coinciding with a convening of The NEAR-Fest hamfester at Deerfield HN.


This site is a participant in the Amazon Services LLC Associates Program, an affiliate advertising program designed to provide a means for sites to earn advertising fees by advertising and linking to Amazon.com. Some links may be affiliate links. We may get paid if you buy something or take an action after clicking one of these.