Popular Communications
From HFUnderground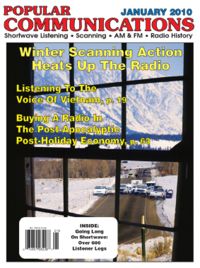 Popular Communications was a monthly printed magazine based in the United States between 1982 and 2013. The magazine, sometimes called "Pop'Comm", covered shortwave listening and DXing, scanners, mediumwave broadcasting as well as utility stations, pirates and clandestines.
The magazine was produced by CQ Communications. They started publishing it in 1982, and replaced the earlier S9 magazine which was published from the early 1960s until 1982. Tom Kneitel edited both magazines during their heyday.
Columns of interest include:
"Pirates Den", with shortwave pirate loggings
"Clandestine Communique", with clandestine loggings
The magazine has run several articles on the Spy Numbers Stations phenomenon, some of them authored by Havana Moon.
They announced in December 2013 that the print edition of the magazine would be discontinued. Popular Communications continued for a while as an electronic supplement to CQ magazine.
Website


This site is a participant in the Amazon Services LLC Associates Program, an affiliate advertising program designed to provide a means for sites to earn advertising fees by advertising and linking to Amazon.com. Some links may be affiliate links. We may get paid if you buy something or take an action after clicking one of these.