Kracker
From HFUnderground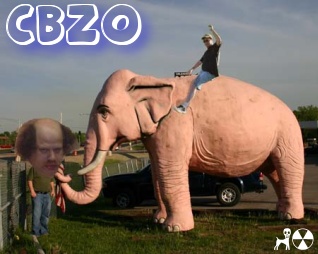 Kracker[1] is a shortwave pirate operator active since 2005. He is responsible for many different pre-recorded shows, and occasionally is heard doing profanity-laced "live" transmissions.
Kracker is a long time radio enthusiast, and has a history as a CB Savage. Kracker's 27MHz transmissions usually resulted in annoying all his neighbors in a six block radius by broadcasting off-color radio shows using a high powered CB rig. He claims to own and operate a Yaesu FT-101 EE, although the finals appear to be blown out as of fall 2007. He also claims to own and operate several FM transmitters, including at least one splatterbox. Kracker possesses a QSL from WBCQ dating to when that station was conducting test transmissions prior to officially signing on in 1998.
In the summer of 2007, Kracker was chosen to be the Vice Presidential candidate in Commander Bunny's 2008 Presidential campaign. As a result, frequent collaboration between WBNY and Kracker has been observed.
3-3-08
I regret to inform the pirate listeners that you have seen the last of my programing . Sorry but my time is to valuable for this chickenschit prepubescent nancyboy rhetoric . All the Fansomes, Smolinskis and Galkins can entertain you , I am sure there Programing will be every bit as entertaining as that of Mine and Commander Bunnys . Be sure to thank them for all they do and have done for the community . I don't need all this bullschit. I QUIT!!!

An apology might have been accepted but it is to late now. My mind is made up .
Thank you to all the decent folks who have been there , the rest of you can lick the sweat off Bozo's scrotum.
Color me Gone morter forkers!
Kracker Out .
Shortwave pirate shows associated with Kracker include:
Quotes
"JAMBA"
"i like to smoke and drink and eat all kinds of bad schit" -- 9/21/07
"i have a low tolerance for stupidity...ignorance is bliss but stupididty is inexcusable" -- 10/15/07
"8 less than 69 is never good" -- 11/11/07
"i may not be the sharpest tack in the box , but god damn it I am far from the dullest!" -- 11/16/07
"you are so out classed son you wanna be famouse? you are going to be" -- 12/19/07
"i have been accused of all kins of schit" -- 1/16/08
"i am not kracker my pc is" -- 2/15/08
"I wouldn't piss in his mouth if his teeth were on fire" -- 2/24/08
"Mode #pirateradio +b kracker*!*@*.* by ChanServ -- 3/1/08
"kracker was booted from #pirateradio by ChanServ (ChrisSmol:) -- 3/1/08


This site is a participant in the Amazon Services LLC Associates Program, an affiliate advertising program designed to provide a means for sites to earn advertising fees by advertising and linking to Amazon.com. Some links may be affiliate links. We may get paid if you buy something or take an action after clicking one of these.