WBNY
From HFUnderground
(Difference between revisions)
m

Line 6:
Line 6:

WBNY tends to use any mode available, including [[AM]], [[SSB]], [[FM]] and [[SSTV]]. It also broadcasts on a range of frequencies, but usually 6925. It is extremely active at times, often making several broadcasts in a single weekend.

WBNY tends to use any mode available, including [[AM]], [[SSB]], [[FM]] and [[SSTV]]. It also broadcasts on a range of frequencies, but usually 6925. It is extremely active at times, often making several broadcasts in a single weekend.

-

 

+

WBNY has been known to broadcast parodies of [[spy numbers stations]]. A typical WBNY numbers transmission in 2004 was deciphered as follows:

WBNY has been known to broadcast parodies of [[spy numbers stations]]. A typical WBNY numbers transmission in 2004 was deciphered as follows:

Line 22:
Line 22:

It is unclear as to whether or not the present incarnation of WBNY is in any way actually related to the original station.

It is unclear as to whether or not the present incarnation of WBNY is in any way actually related to the original station.

-

== See also ==

== See also ==
---
Revision as of 03:11, 20 October 2007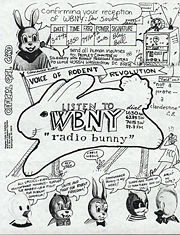 WBNY [1] is a station operated by Commander Bunny, who purports to be the leader of a Rodent Revolution. Programs consist of music, skits and material promoting rodents as superior to monkeys, a euphemism for humans. WBNY also frequently sends taunting SSTV images.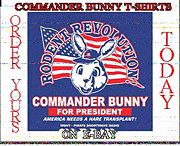 In the late summer of 2007, Commander Bunny announced he was running for President; presumably, of the United States, although this has never been exactly specified. Stickers and t-shirts were made available via eBay. Commander Bunny also selected
Kracker
as a running-mate, and is advancing a platform that, among other things, promotes drinking and the use of marijuana. There is also talk of implementing a "
Fansome-free zone
".
WBNY tends to use any mode available, including AM, SSB, FM and SSTV. It also broadcasts on a range of frequencies, but usually 6925. It is extremely active at times, often making several broadcasts in a single weekend.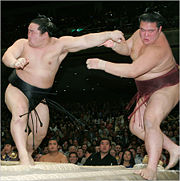 WBNY has been known to broadcast parodies of spy numbers stations. A typical WBNY numbers transmission in 2004 was deciphered as follows:
APE HUMANS MUST BE STOPPED AL F[A]NSOME CHECK TIRE PRESSURE RODENTS RULE YOU ARE WASTING YOUR TIME TRY ING TO DECODE THIS STO[U?]PID HUMAN RODENT REVOL[U]TION WILL WIN GO F*CK YOURS[E]LF
Another deciphered numbers transmission shows a similar theme exploited by WBNY:
al fansome is a good human he will feed you eat the special carrots we got from gania that is all bunny out
It is unclear as to whether or not the present incarnation of WBNY is in any way actually related to the original station.
See also


This site is a participant in the Amazon Services LLC Associates Program, an affiliate advertising program designed to provide a means for sites to earn advertising fees by advertising and linking to Amazon.com. Some links may be affiliate links. We may get paid if you buy something or take an action after clicking one of these.